If you want to relax like you've never relaxed before, this trio of beach island escapes is just for you. Choose Mozambique's remote Bazaruto Archipelago for turquoise blue waters, relatively untouched beaches and beautiful sealife. Swim among whale sharks and manta rays here. Choose Mauritius for equally beautiful beaches and a well organised tourism infrastructure. Mauritius has lots of water sport activities and is a place families will enjoy. Choose the Spice Island of Zanzibar if you want something unique and exotic with an old world Arabic feel.
Recommended length: 7 nights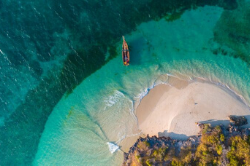 Indicative cost: From USD 2,990 per person sharing, depending on your choice of accommodation. Excludes international flights.
Bazaruto Archipelago or Mauritius or Zanzibar