Diana Granoux, Director
Diana was born in Zimbabwe, and started her life on the banks of the great Lake Kariba. She moved to South Africa when she was a toddler and grew up in Kwa-Zulu Natal. Diana has vivid memories of long winter holidays spent camping in Zimbabwe, Namibia, Botswana and South Africa with her family. Her parents loved the bush and her father started his own tour operating company in 1992. He was an early pioneering specialist in bird watching safaris in South Africa.

As she grew up, Diana became aware of the big wide world outside of the African countries she knew so well, and she took her first solo overseas trip at age 14 to London to visit her father's family. Since that moment she became fascinated with experiencing the world beyond what she knew. Diana has since traveled extensively through Africa, Europe, America and Asia.
Diana is married to a Frenchman and has two young kids, who are simultaneously developing a love for biltong & braai's, and baguettes & brie.
After 16 years gaining valuable experience working for big corporates in South Africa, Diana decided to follow her passion for travel and start Leopard.
She wants to create, with Leopard, a company that gives customers something unique: a curated experience of Africa, made especially for them. She says, "From the moment they arrive in Africa, to the moment they depart, I want them to have a seamless experience. I want them to enjoy the best the continent has to offer, leaving with memories that last a lifetime."
Daphnée Filliette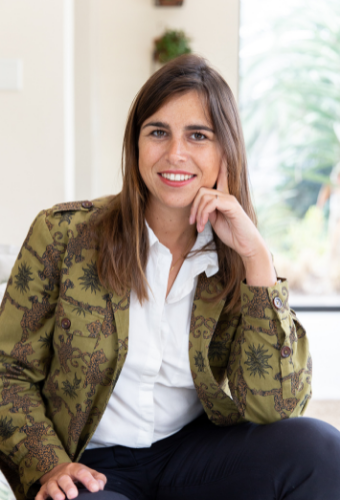 Daphnée was born in France in the Hauts-de-France region of Lille. A passionate traveller, Daphnée has lived and worked in several countries around the world.
Firstly in the United States where she has family, then in England while studying for her Masters in International Marketing and finally in Oceania to do what is called "WWOOFing" where you work on a farm in exchange for room and board. She met a great love in Paris, who would later become her husband, and this made her come back to reality: find work and start a family in France!
Daphnée began her career in fashion marketing and in 2012, she created her fashion brand and took on all aspects of building a business.
In 2016, Daphnée and her family had the wonderful opportunity to live in South Africa. She remembers saying, "The question does not even arise, let's go, that's obvious!" Since then, they have had 3 children and are enjoying their life in Johannesburg.
Daphnée has worked in the tourism industry for 7 years, specializing in Africa. Her favourite countries are Tanzania and Namibia but she also fell in love with Victoria Falls in Zimbabwe and Chobe in Botswana. Her next family trip will be to Mozambique, that's for sure!
Charles Howie
Growing up in Johannesburg, Charles and his family would escape to the bush whenever they had the opportunity. These regular holidays to game reserves developed into a deep love for South Africa's incredible wild spaces and animals. From learning bird calls during long holiday game drives to studying animal behaviour, much of Charles' childhood was shaped by a deep love of nature and the enrichment of travel.

As a young adult, Charles set off to explore the beautiful spaces beyond his home country. Based in London, he worked in hospitality and sales while travelling Europe extensively, eventually settling on the spectacular Basque Coast of Spain, in the tourist town of San Sebastián. While here, he indulged his other passion – for all things food and fine dining.

After returning to South Africa in 2008, Charles settled on a different coast, making Cape Town his home.
He has continued his travels, however, visiting neighbouring countries such as Namibia, Mozambique, Lesotho and Zambia. He has also travelled extensively within his borders, regularly visiting some of the best spots for game viewing and safari experiences. From his home in the shadow of Table Mountain, Charles works to share a taste of his idyllic childhood with travellers from around the world, creating designer travel experiences that allow them to explore South Africa's natural heritage.

When he's not creating dream holidays for his clients, Charles can be found sipping on some of the Western Cape's award-winning wines with his fiancée, enjoying the spectacular dining options on his doorstep, or on an adventure to explore the natural wonders of his beautiful country
Leopard Specialist Guides
One of our greatest assets is our extensive network of specialist guides. Finding the right guide for someone can make the difference between a good holiday and an unforgettable one. We are lucky to work with some of the best guides in the business.
In Cape Town we work with a guide who does extraordinary food tours of the city. She does only private tours and tailors her tour to the tastes of her guests. In Johannesburg we have a guide who is absolutely passionate about the city and its history. She is incredibly knowledgeable and does tours tailored to your interests from public art and architecture, to Constitution Hill and Soweto.
One of the things we look for in a great safari lodge is the quality and passion of their guides. If you prefer a private guide for your entire safari, this can also be arranged. One of our favourite day trips from Cape Town is the Peninsula Tour. Our exclusive, private tours with some of the best guides in the city, stand out above anything you'll find online. In the wine region we have a brilliant tour guide who finds the best cellars to visit, and those only available for private tastings. For people with special interests we have excellent birdwatching, botanical, mountain biking and Anglo Boer War & Anglo Zulu War guides.