Diana Granoux, Director
Diana was born in Zimbabwe, and started her life on the banks of the great Lake Kariba. She moved to South Africa when she was a toddler and grew up in Kwa-Zulu Natal. Diana has vivid memories of long winter holidays spent camping in Zimbabwe, Namibia, Botswana and South Africa with her family. Her parents loved the bush and her father started his own tour operating company in 1992. He was an early pioneering specialist in bird watching safaris in South Africa.

As she grew up, Diana became aware of the big wide world outside of the African countries she knew so well, and she took her first solo overseas trip at age 14 to London to visit her father's family. Since that moment she became fascinated with experiencing the world beyond what she knew. Diana has since traveled extensively through Africa, Europe, America and Asia.
Diana is married to a Frenchman and has two young kids, who are simultaneously developing a love for biltong & braai's, and baguettes & brie.
After 16 years gaining valuable experience working for big corporates in South Africa, Diana decided to follow her passion for travel and start Leopard.
She wants to create, with Leopard, a company that gives customers something unique: a curated experience of Africa, made especially for them. She says, "From the moment they arrive in Africa, to the moment they depart, I want them to have a seamless experience. I want them to enjoy the best the continent has to offer, leaving with memories that last a lifetime."
Daphnée Filliette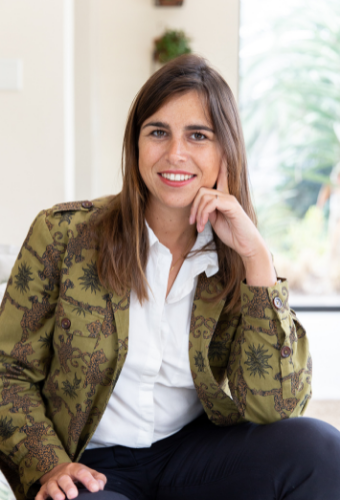 Daphnée was born in France in the Hauts-de-France region of Lille. A passionate traveller, Daphnée has lived and worked in several countries around the world.
Firstly in the United States where she has family, then in England while studying for her Masters in International Marketing and finally in Oceania to do what is called "WWOOFing" where you work on a farm in exchange for room and board. She met a great love in Paris, who would later become her husband, and this made her come back to reality: find work and start a family in France!
Daphnée began her career in fashion marketing and in 2012, she created her fashion brand and took on all aspects of building a business.
In 2016, Daphnée and her family had the wonderful opportunity to live in South Africa. She remembers saying, "The question does not even arise, let's go, that's obvious!" Since then, they have had 3 children and are enjoying their life in Johannesburg.
Daphnée has worked in the tourism industry for 7 years, specializing in Africa. Her favourite countries are Tanzania and Namibia but she also fell in love with Victoria Falls in Zimbabwe and Chobe in Botswana. Her next family trip will be to Mozambique, that's for sure!
Helen du Toit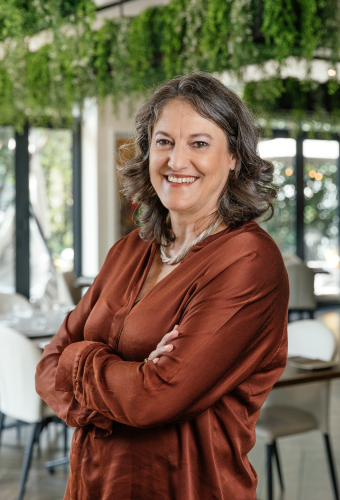 Until the age of three, Helen lived in a little stone cottage in the Kyle Game Reserve, in Zimbabwe until she and her family relocated to the Kariba Dam on the great Zambezi River. Here, Helen's father managed a Fisheries Research Institute and she grew up immersed in a culture of tourism. She also spent many Sunday afternoons in the bush observing wildlife with her family.
Helen moved to South Africa in the early '80s and after leaving school she entered the travel industry. She travelled to many countries for business research and later became a specialist in travel to South America, which she visited numerous times.
Her husband's work required the family to settle in the little town of Mtunzini, a beautiful spot on the north coast of KwaZulu-Natal, where she took a job in the finance department at the local school. This began a chapter in Helen's life that prepared her for corporate finance. Later, Helen worked as an imports and exports administrator and then as treasurer for a large multinational company in Johannesburg while undertaking post-graduate studies in Corporate Governance and Administration.
When she and her family moved back to Durban, Helen worked as a bursar of a large private school. She was delighted to be living near the ocean again and couldn't resist getting her open-water diving certificate, as her son was a scuba diving instructor. Helen's love of adventure and creation has been a constant theme throughout her life.
She was delighted to return to the travel industry and joined Leopard in September 2022 as an administration manager.
Rhoda-Ann Rautenbach
Rhoda-Ann takes care of Leopard's financial records, ensuring that all records are in order and that the company is fully tax compliant.

Rhoda-Ann grew up on a farm in the Free State where she developed a love for nature and wildlife. After finishing her studies, she worked in Johannesburg for six years at various accounting firms. In 2020, she started her own small accounting business, called Kiewiet Accounts. This allowed her to move back to her hometown.
She lives with her husband and three border collies in Bothaville. She likes to write music and spend time in nature in her free time. She aspires to have meaningful relationships – whether that's in business or in her personal life.
Elise Kirsten
Like the rest of the Leopard team, Elise is passionate about travel. She's the former online editor of Getaway magazine (South Africa's oldest travel mag) and since 2020 she's worked as a freelance travel journalist. She also loves helping clients in the travel sector to communicate effectively.
Elise helps Leopard stay current with its digital strategy. She also enjoys tinkering with text and puts her wordsmithery to use by alternating with Diana to write Leopard newsletters, as well as craft social media captions.
Elise is married to her straight-out-of-high-school sweetheart and has two beautiful grown daughters. She loves wide open spaces and when she's not behind her desk she can be found travelling, hiking, mountain biking or exploring the ocean.
Jessica Maitland-Stuart
Jessica is an accomplished brand designer known for creating concept-based visuals and typography. She uses her finely-honed design skills to create Leopard's branding and personalised client itineraries.
Jessica's design principles are based on collaborating with clients and building successful working relationships with small start-ups who share her drive to make an impact through the work she produces. That means her design doesn't end with the artwork but requires creativity in production to find ways of reducing both cost and environmental impact as part of an intriguing and captivating design.
Jessica is an avid runner, wife and mother of two and holds a BA degree in Brand Communication. She has gained recognition from the International Society of Typographic Designers, as well as gained valuable experience collaborating with industry leaders at the prestigious studio of Breinstorm Brand Architects.
In 2007 Jessica co-founded Garage East, a brand design studio driven by the pursuit of meticulous craftsmanship. Inspired by the 'garagistes' of France. The studio quickly gained a reputation for producing high-quality designs in a hands-on, garage-style environment.
Leopard Specialist Guides
One of our greatest assets is our extensive network of specialist guides. Finding the right guide for someone can make the difference between a good holiday and an unforgettable one. We are lucky to work with some of the best guides in the business.
In Cape Town we work with a guide who does extraordinary food tours of the city. She does only private tours and tailors her tour to the tastes of her guests. In Johannesburg we have a guide who is absolutely passionate about the city and its history. She is incredibly knowledgeable and does tours tailored to your interests from public art and architecture, to Constitution Hill and Soweto.
One of the things we look for in a great safari lodge is the quality and passion of their guides. If you prefer a private guide for your entire safari, this can also be arranged. One of our favourite day trips from Cape Town is the Peninsula Tour. Our exclusive, private tours with some of the best guides in the city, stand out above anything you'll find online. In the wine region we have a brilliant tour guide who finds the best cellars to visit, and those only available for private tastings. For people with special interests we have excellent birdwatching, botanical, mountain biking and Anglo Boer War & Anglo Zulu War guides.